Executive Director: Mphatheleni Makaulule – (Phangami- Mulisa)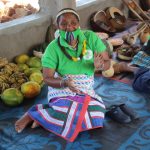 mobile phone:  +27 7949 35 200 Whatsapp: 067 259 5272
E-mail: mupofood@gmail.com   
Mphatheleni is the daughter of the late Makaulule Ratshili Aron, a traditional healer, traditional farmer and traditional leader and hails from vhongwaniwapo (indigenous) clan of the VhaVenda nation, in northern South Africa.
" I was born , when my father was 74 years, I am a child of an elder."
Mphatheleni Makaulule (Mphathe)  was brought up in Vuvha-Serville, a village of the VhaVenda tribe of northern South Africa. She has a deep passion for the culture and traditions of her people, and has watched the fast attrition of her culture as westernization and modernization have engulfed her community. While increasingly the local youth believe that the elders, aged  of the community are "uneducated" in the western tradition and have nothing to offer them, Mphatheleni has spent countless hours sitting with the elders, or "libraries of knowledge" as she calls them, learning about social and ecological governance.
In 1998 , Mphatheleni finished her teaching Degree from University of Venda, then went straight back to her communities to learn from elders about the culture: forests, rivers, rituals and in that learning she worked with school children and teachers to transfer the indigenous knowledge.
From  2000 she has been engaging the school children and teachers for elder  to transfer the indigenous knowledge, and thus how she established a traditional homestead inside indigenous forests which was named Luvhola Cultural Village.
In 2006, Mphathe met with the African Biodiversity Network , network which have been working together to seek African solutions to the ecological and socio-economic challenges that face the continent. African Biodiversity Network introduced Mphathe to Gaia Foundation.
In 2007 she founded Mupo Foundation and co-founded Dzomo la Mupo ("Voice of Mupo"), a community-based organisation, based on the work she was doing with communities to revive their confidence and stand firm against some of the threats to their  culture and livelihoods, such as destruction of sacred sites, defending the African rights on the indigenous spiritual paths and traditional healing, and then  threats of mining projects in the region.
The Dzomo la Mupo, which was  first registered as Mupo Foundation,  is the voice of Mupo. Members of Dzomo la Mupo are  the voices of Mother Earth and her communities.
What is Mupo?
"The word 'Mupo' describes the origin of creation, the creation of the whole Universe. When we look at Nature we see Mupo. When we look at the sky we see Mupo. When we see moon and star light we say it is Mupo light. Mupo means all that is not man-made. Mupo gives everything  a space – humans  have space, all animals have space, reptiles, insects, birds have their space, soil rocks, trees, plants, rivers, mountains, stars moon, clouds have space. That sound of a river is a Mupo sound that the river has to flow like that. Everything is called Mupo and has a Mupo space which has a Mupo spirit from ancestors, totems wild, such as animals, rocks, reptiles, birds, etc. e g my totem is warthog"
Mphathe worked with Gaia Foundation from August 2007 till 2014, at which point over-representations from Gaia Foundation did not work well with local communities in Venda.
Mupo Foundation  is still the same work happening in Venda , however the registration of Mupo Foundation has been cancelled and remains as Dzomo la Mupo. 
Presently Mphathe, still continuing the same ways now being a Dzomo la Mupo, which in 2015, it has been registered as local Community Based Organization,  to carry on with  same vision and activities under Mupo mission of its meaning. The protection of Zwifho Sacred Natural Sites is at the core of the work and programs. Mupo as a principle in all areas of work happening , the mission is to establish Dzomo la Mupo communities of practice and presently as part of the growing global network of communities and their allies are saying  " Zwifho are "No Go Zone Areas" and instead  "Yes to Life, No to Mining!"
Miss Obasa Esther– Mphatheleni PA (Personal Assistant)
  Cell  No : +27780073897
Email: obasaadebusayo@gmail.com
Dr. Kimberly Ross – Education Programme Coordinator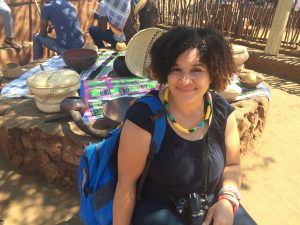 Dr. Kimberly Ross transitioned from Research Assistant to Educational Programme Coordinator in the summer of 2017. Kimberly has a range of experiences as a high school and post-secondary teacher. She recently completed a PhD program in African American and African Studies at Michigan State University and has traveled to South Africa several times since 2012. https://kimberlybernitaross.weebly.com/   In 2015-2016, she conducted 6 months of field and archival research to complete her dissertation titled, Traditional Terrain: Land, Gender, and Cultural Biodiversity Preservation in Venda, South Africa. Kimberly's interdisciplinary, qualitative research utilizes African-centered theoretical frameworks and gender paradigms. Through her research she examines the colonial social formations that historically and presently disrupt the ancestral and ecological role of the paternal aunt, known as the makhadzi— and the gendered, socioeconomic, and environmental implications in a globalized, post-apartheid era. She will be supporting Dzomo La Mupo's educational outreach by organizing opportunities for grade school children, teens, and university students to learn directly from African Indigenous Knowledge practitioners. Under Mphatheleni Makaulule's guidance, Kimberly has learned to approach education holistically for "the management of life and the community." She draws from Makaulule's educational concepts, cultivated with the African Biodiversity Network, and her dialogues with indigenous communities and elders in Venda, the Northwest Amazon, Ethiopia, Kenya, and Botswana. These communities acknowledge a respect for one's ancestors and an awareness of land in the territory (Shango).
Ruth Damm – Website Development 
Dzomo la Mupo organisational structure
Current Dzomo la Mupo management committee:
Chairperson – Mr. Vhavenda Vho-Netshilungwi M.A
Deputy chairperson – Mrs. Mudau T.B
Secretary – Nevhudoli Dolphus
Deputy Secretary -Vho- Ramufhufhi G
Treasurer- Ms. Netshidzivhe Tshilidzi
Communications and Network Coordinator- Mulalo (Lali) Tshikange
Additional guardians – Vho-Makhadzi Vho-Nevhutanda Nyamukamadi (Mrs) and Vho-Makhadzi Vho-Netshidzivhe Joyce (Mrs). The chief of Tshidzivhe and the chief of Vhutanda are also in the committee as advisors.
Board Members
Vhavenda Vho-Ramudingane N.(Mr), Makhadzi Vho-Makoma D (Mrs), Makhadzi Vho-Nemarude M.J (Mrs), Chief/Khosi Vho-Netshidzivhe .N.N (Mr), Chief/Vhamusanda Vho-Nevhutanda N.P (Mr).
Dzomo la Mupo first Deputy Chairperson – Makhadzi Vho-Tshisikhawe is now an advisor to all sacred sites zwifho clans. She is the one who welcomes new members to DLM.
Johannes Ramunangi was the first Chairperson of Dzomo la Mupo from 2007 – 2012. We will always remember him and his legacy to DLM. Johannes passed away in 2016 and has joined the ancestors.
Head of collaborations: Univen Community Engagement
She acknowledge and shows gratitude to elders(indigenous knowledge holders) The 2018 Heritage Day Symposium promotes intergenerational learning | University of Venda (univen.ac.za)