Volunteering Team
Mphatheleni Makaulule – Executive Director (Phangami) – mupofood@gmail.com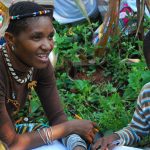 Mphatheleni Makaulule was brought up in Vuvha, a village of the VhaVenda tribe of northern South Africa. She has a deep passion for the culture and traditions of her people, and has watched the fast attrition of her culture as westernisation and modernisation have engulfed her community. While increasingly the local youth believe that the elders of the community are "uneducated" in the western tradition and have nothing to offer them, Mphatheleni has spent countless hours sitting with the elders, or "libraries of knowledge" as she calls them, learning about social and ecological governance. In 1999 Mphathe built the "Luvhola Cultural Village" with the help of community members. Then, in 2007 she founded and registered the Mupo Foundation in order to further facilitate this work.
Dr. Kimberly Ross – Education Programme Coordinator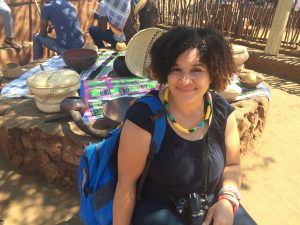 Dr. Kimberly Ross transitioned from Research Assistant to Educational Programme Coordinator in the summer of 2017. Kimberly has a range of experiences as a high school and post-secondary teacher. She recently completed a PhD program in African American and African Studies at Michigan State University and has traveled to South Africa several times since 2012. Most recently, in 2015-2016, she conducted 6 months of field and archival research to complete her dissertation titled, Traditional Terrain: Land, Gender, and Cultural Biodiversity Preservation in Venda, South Africa. Kimberly's interdisciplinary, qualitative research utilizes African-centered theoretical frameworks and gender paradigms. Through her research she examines the colonial social formations that historically and presently disrupt the ancestral and ecological role of the paternal aunt, known as the makhadzi— and the gendered, socioeconomic, and environmental implications in a globalized, post-apartheid era. She will be supporting Dzomo La Mupo's educational outreach by organizing opportunities for grade school children, teens, and university students to learn directly from African Indigenous Knowledge practitioners. Under Mphatheleni Makaulule's guidance, Kimberly has learned to approach education holistically for "the management of life and the community." She draws from Makaulule's educational concepts, cultivated with the African Biodiversity Network, and her dialogues with indigenous communities and elders in Venda, the Northwest Amazon, Ethiopia, Kenya, and Botswana. These communities acknowledge a respect for one's ancestors and an awareness of land in the territory (Shango).
Dr. Natasha Constant – Biodiversity Progamme Coordinator
Dr. Natasha Constant is the Biodiversity Progamme Coordinator for Dzomo La Mupo. Natasha works as a postdoctoral researcher at the Sustainable Places Research Institute, Cardiff University in the U.K and the South African Research Chair in Biodiversity Value and Change at Venda University in South Africa. She will be supporting Dzomo La Mupo through her ongoing research in the region titled: 'Integrating local and indigenous knowledge into land-use and ecological restoration in Venda, South Africa' and will be exploring how to convert documented knowledge on the cultural and ecological importance of plants into an educational resource for schools in Venda.  Natasha will support work related to the restoration of indigenous trees and forests in Venda, raising environmental awareness in communities and schools, and engaging with policy and government actors to work together to protect biodiversity in the traditional territories. Natasha has a background in Zoology and Conservation Biology and completed a PhD in Anthropology in 2014. She has worked extensively in South Africa conducting research on the human dimensions of human-wildlife conflict between leopards and farming communities in the Blouberg Mountain Range and undertook ethnographic research into the relationships between rural communities and protected areas. Recently, Natasha worked at the University of Venda in South Africa from August-December 2016 as a visiting Postdoctoral Fellow where she conducted pilot research focusing on the ethnobotanical knowledge, practices and cosmology of the VhaVenda and worked closely with Dzomo La Mupo. Her ongoing research will support practical activities and outputs for the organisation.
Ruth Damm – Website Development 
Dzomo la Mupo organisational structure
Current Dzomo la Mupo management committee:
Executive Director – (Phangami) Mphatheleni Makaulule 
Chairperson – Mr. Vhavenda Vho-Netshilungwi M.A
Deputy chairperson – Mrs. Mudau T.B
Programme Coordinator and Secretary – Ms. Netshidzivhe Tshilidzi
Deputy Secretary – Mr. Manwatha T.J
Treasurer – Mr. Madzivhe T.S
Additional guardians – Vho-Makhadzi Vho-Nevhutanda Nyamukamadi (Mrs) and Vho-Makhadzi Vho-Netshidzivhe Joyce (Mrs). The chief of Tshidzivhe and the chief of Vhutanda are also in the committee as advisors.
Board Members
Vhavenda Vho-Ramudingane N.(Mr), Makhadzi Vho-Makoma D (Mrs), Makhadzi Vho-Nemarude M.J (Mrs), Chief/Khosi Vho-Netshidzivhe .N.N (Mr), Chief/Vhamusanda Vho-Nevhutanda N.P (Mr).
Dzomo la Mupo first Deputy Chairperson – Makhadzi Vho-Tshisikhawe is now an advisor to all sacred sites zwifho clans. She is the one who welcomes new members to DLM.
Johannes Ramunangi was the first Chairperson of Dzomo la Mupo from 2007 – 2012. We will always remember him and his legacy to DLM. Johannes passed away in 2016 and has joined the ancestors.